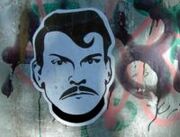 Carl Gustaf Christer Pettersson, född 23 april 1947 i Solna, Stockholms län, död 29 september 2004 i Solna, var länge huvudmisstänkt i utredningen som följde påmordet på Olof Palme och var därefter fram till sin död Sveriges kanske mest kände brottsling. Han var dessförinnan dömd för dråp och en lång rad andra brott.
Ad blocker interference detected!
Wikia is a free-to-use site that makes money from advertising. We have a modified experience for viewers using ad blockers

Wikia is not accessible if you've made further modifications. Remove the custom ad blocker rule(s) and the page will load as expected.